13th Annual Run for Rights
June 7, 2014 @ 08:30

-

11:00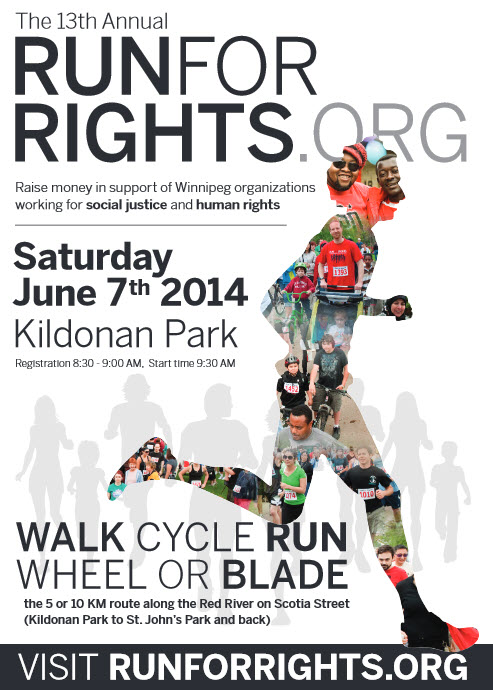 Mark Saturday, June 7th 2014 on your calendar for the 13th Annual Run for Rights. Whether you choose to walk, run, cycle or rollerblade, this event is a great way to get some exercise or warm up for the Manitoba Marathon, all while supporting social justice and human rights.
To take part in the Run for Rights, you may collect pledges for — or make a donation to — one of the participating organziations (see list). You may also do the same for the Run for Rights as a group, in which case funds are used to support all participating organizations. Everyone is welcome, and there is no minimum donation or pledge required to participate!
Registration takes place Saturday June 7th from 8:30 to 9:00 AM at Kildonan Park, and the run starts at 9:30 AM. Please bring your registration form, your pledge money or donation, and a water bottle (water refills will be provided along the route). The Run for Rights is a "Fun Run" – participants will be responsible for recording their own times. If you are a MRA Youth Series Participant, your place will be recorded at the finish line for your series points.
To register, pledge, or donate, please visit the Run for Rights website.
For more information on getting involved, call (204) 471-6426 or email run4rights@gmail.com
Hosting a cycling related event in Winnipeg? If it fits within our event list posting guidelines, we'd be happy to post it for you. Please email us at eventlistings@bikewinnipeg.ca.