Bike for the Future – Downtown – The Road to Ecological and Financial Ruin!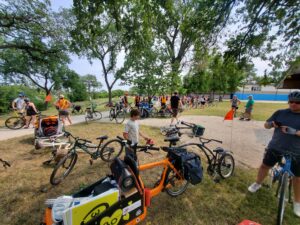 Bike Winnipeg presents:

Bike for the Future! 
The City of Winnipeg is starting consultations with the public on priorities for the next 4-year budget.  Come ride with us and let city hall know that investing in sustainable mobility is your priority! See www.anatomyofapothole.ca for more details!

When: June 11, 11 am
Where: Meeting at the forks playground https://goo.gl/maps/MdbjummSPB1NUs358

Our ride will end at the legislature at 1pm where we will celebrate 10 years of Bike Week Winnipeg!
The ride will have multiple departure points so please join in at a point that works well for you! We roll slow so the ride is accessible to people of all ages and abilities.
Route map: https://goo.gl/maps/ym6tA261H43wxgtG7
Departure times:
The Forks 11:10am
Provencher Park 11:25am
Stephen Juba Park 11:45am
Central Park 12:10pm
Vimy Ridge Park 12:45
Arrive around 1:00 pm at The Legislature
Link to our Facebook event: https://fb.me/e/3vdM6DQf4
Why? Because our climate is warming, and we need our municipal government to make walking and rolling safe and comfortable for people of all ages and abilities! 
What is Bike for the Future? 
Bike for the Future was first held in August of 2021 in response to cuts to active transportation funding and the need to create safe speeds for active transportation users in our neighborhoods. 
Our Bike for the Future rides are open to people of all ages and abilities.  Are marshalled by experienced riders and are planned along quiet routes on a Saturday or Sunday.
Please check out www.anatomyofapothole.ca to see how our city is planning to develop over the coming decade!
Hosting a cycling related event in Winnipeg? If it fits within our event list posting guidelines, we'd be happy to post it for you. Please email us at eventlistings@bikewinnipeg.ca.