Bike for the Future – Wolseley/River Heights
October 17, 2021 @ 13:30

-

15:30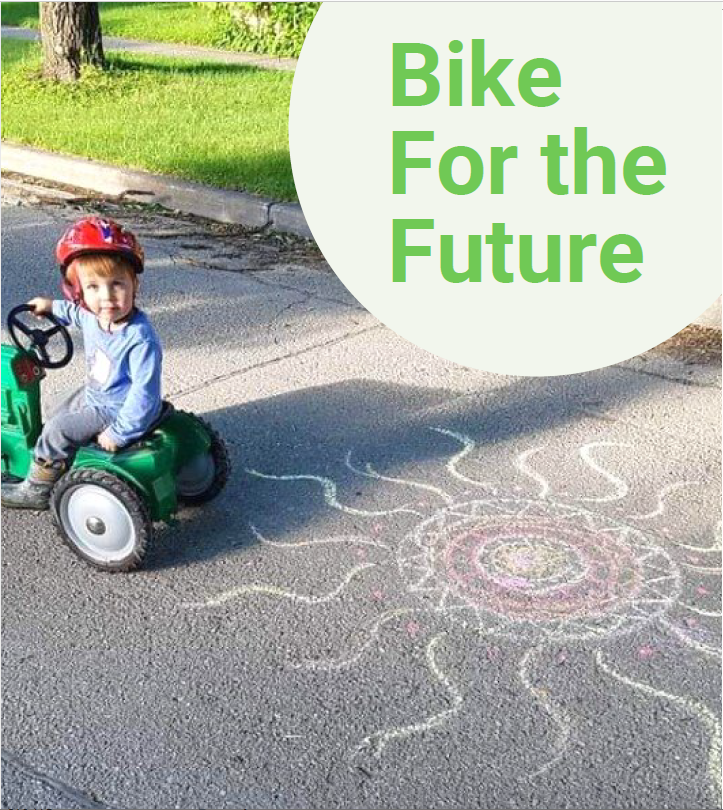 Important COVID-19 Update
Due to Covid-19 restrictions on group size, we will be limiting the number of people in the ride(s) to about 30 people per group, and will send groups out as soon as we reach that maximum group size. We hope to get 2 groups of 30 sent out, but since we have a limited number of ride marshals to oversee the ride, beyond that second (and possibly a third) group, we are asking that people that arrive once those groups have left to ride the route as individuals or as family groups. And of course, you're free to ride the route as individuals or as a family group at any time!
The Route
Leave Vimy Ridge Park via the south east corner.  Ride east on Preston to Canora Street.  Ride south on Canora.  Just south of Westminster, turn west into the backlane.  Follow the lane south running parallel along Canora St.  Making this slight detour through the back lane allows you to see some of the incredible Kal Barteski's Back Alley Arctic art on garages and fences.
https://bit.ly/2ZIJxIZ
Turn east back to Canora out of the backlane .  South to Wolseley.  West on Wolseley.  North on Raglan Rd. Ride west into the parking lot at Portage Ave.  Ride west on the sidewalk parallel to Portage to path back into Omand's creek park.  West at the railway crossing.  Continue traveling west on Wolseley ave W.   Follow the road under route 90. Ride through the parking lot to Riverbend Cres.  Ride west on Riverbend Crescent.  Ride west through Jae Eadie Park (at bend where Riverbend heads north.  The path is beside 148 Riverbend Crescent).
Ride south on Parkside Dr.  which turns into Assiniboine Ave (continue west on Assiniboine Ave).  Ride west through Bourkevale Park.  On Douglas Park Road, head west on the path just north of 104 Douglas Park Rd.  Ride through west through Bruce Park. Ride west on Deer Lodge Pl.  At the bridge into Assiniboine Park ride south into Assiniboine Park.  Head east along the multi use path running parallel to the Assiniboine River toward Wellington Crescent.  Follow Wellington Crescent East.  Finish around Harrow.
You may choose to return home via Wolseley by heading west on Wellington Crescent and crossing the active transportation bridge that runs parallel to the rail line just east of route 90.
Please don't congregate in groups of more than 50!
Why We are Riding
Walking and cycling are the two most environmentally friendly modes of transportation and need to play a key role in our greenhouse gas reductions. Transportation makes up 50% of Winnipeg's emissions (https://winnipeg.ca/sustainability/ClimateChange.stm).
Bike for the Future rides are mass rides we use to advocate for safe spaces for our friends and families to actively commute by bike so that our community can help tackle the climate crisis.
Join us on Sunday, October 17th for a ride through Woseley and River Heights focusing on the North and South Assiniboine Parkways. We'll be riding out to Assiniboine Park via the Wolseley and Wellington Open Streets.
The ride should take us about 2 hours.
Our Bike for the Future rides are designed with riders of all types in mind.
We ride along calm streets in a large group with the help of our ride marshals.
We ride at a speed that allows people of all ages and abilities to participate.
Everyone is welcome!
Group gathering restrictions may force delays, so please check this page or our Facebook page for current ride status.
Vimy Ridge Park is located along Portage Avenue and can be accessed via Home Street, Canora St, or Preston Ave. The Ruby/Banning bikeway provides a safe crossing of Portage Ave and connects to Preston Ave. Home St and Canora St. can be accessed from Portage, Westminster, or Wolseley.
Date: Sunday, October 17th
Time: 1:30 pm
Start Location: Vimy Ridge Park (821 Preston Ave – near Portage & Home)
Duration: About 2 hours
Hosting a cycling related event in Winnipeg? If it fits within our event list posting guidelines, we'd be happy to post it for you. Please email us at eventlistings@bikewinnipeg.ca.