Chief Peguis Greenway Extension Open House
January 31, 2017 @ 16:00

-

20:00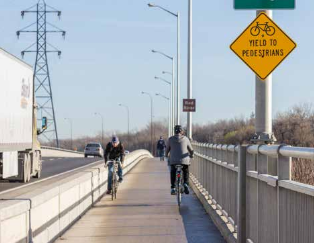 The City of Winnipeg has identified a gap in the pedestrian and cycling network from Henderson Highway to Main Street and is undertaking a study to eliminate this gap. This project will connect Henderson Highway to Main Street and provide a safe and attractive cycling and pedestrian facility for all ages and abilities. The project will also include improvements to existing transit stops, lighting, signage, and landscaping within the project area as well as improved traffic operations at the Main Street and Chief Peguis Trail intersection.
Please plan to attend an upcoming Open House:
Date: Tuesday, January 31, 2017
Time: 4:00 p.m. to 7:00 p.m.
Location: Red River Community Centre, 293 Murray Avenue
Format: Drop-in
Feedback from stakeholders and members of the general public has and continues to:
Provide our designers with local input and knowledge of the area.
Inform the Project Team of concerns with existing conditions.
Identify preferred routes for pedestrian and cyclists (i.e. desire lines).
Review conceptual designs and provide input on issues such as connectivity, safety, access, or conflicts.
Identify any areas requiring improvements (i.e. lighting, transit, signage, etc.)
Provide feedback on the recommended design.
Project team members will be at the open house to answer your questions and listen to your comments. For inquiries or for those who may require alternate formats or interpretation in order to participate, please contact David Jopling by January 24, 2017.
Hard copy surveys will be available at the information session, but if you would prefer to fill out an online survey, please review the open house materials and complete the online survey. The online survey will be available until February 14, 2017.
If you have any questions, please contact:
David Jopling, Public Engagement Lead, WSP | MMM
204-943-3178 or joplingd@mmm.ca
Hosting a cycling related event in Winnipeg? If it fits within our event list posting guidelines, we'd be happy to post it for you. Please email us at eventlistings@bikewinnipeg.ca.