How to Develop an Active Transportation Map of your Community
March 27, 2014 @ 09:00

-

23:30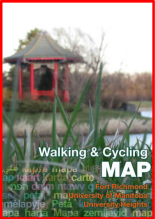 WHY develop an AT map?
Helps 'discover' community AT champions
Clearly identifies missing AT infrastructure 'gaps'
Is a tool to engage people towards using active transportation
Enables a unique process of community engagement focused on AT
Is a catalyst to discuss improved and new AT infrastructure for the community
Is a step towards developing a broader community active transportation plan
Is informative to new Canadians, new families to the area, students, tourists and shoppers to name just a few!
HOW is an active transportation map developed?
The Mapping Session will walk through the steps used to develop the newly released Fort Richmond/University Height and University of Manitoba Walking & Cycling map. South Winnipeg residents created a map highlighting every single sidewalk, trail, cut through, crosswalk, bus stop and more! The map details various surface types of trails (asphalt, gravel, bark chip, grass, etc.), it contains the locations of the heated bus shelters, traffic lights, controlled crosswalks, various community amenities (libraries, swimming pools, post offices, medical clinics, etc.). The map even includes community treasures—featuring popular fishing holes, climbing trees, topiary elephants grazing and nuggets of history from years gone past!
RSVP:             Sylvie info@riverswest.ca  (204) 925‐2320 ext. 108
COST:             Free
Presented by: City of Winnipeg, Green Action Centre, Winnipeg Trails Association & Rivers West
Presenters:    Jackie Avent, Janice Lukes, Anders Swanson, City of Winnipeg representative
Hosting a cycling related event in Winnipeg? If it fits within our event list posting guidelines, we'd be happy to post it for you. Please email us at eventlistings@bikewinnipeg.ca.