Fall Fundraising Concert featuring Burnstick, Paper Machetes, and Veneer
October 29, 2022 @ 19:00

-

23:00

$20.00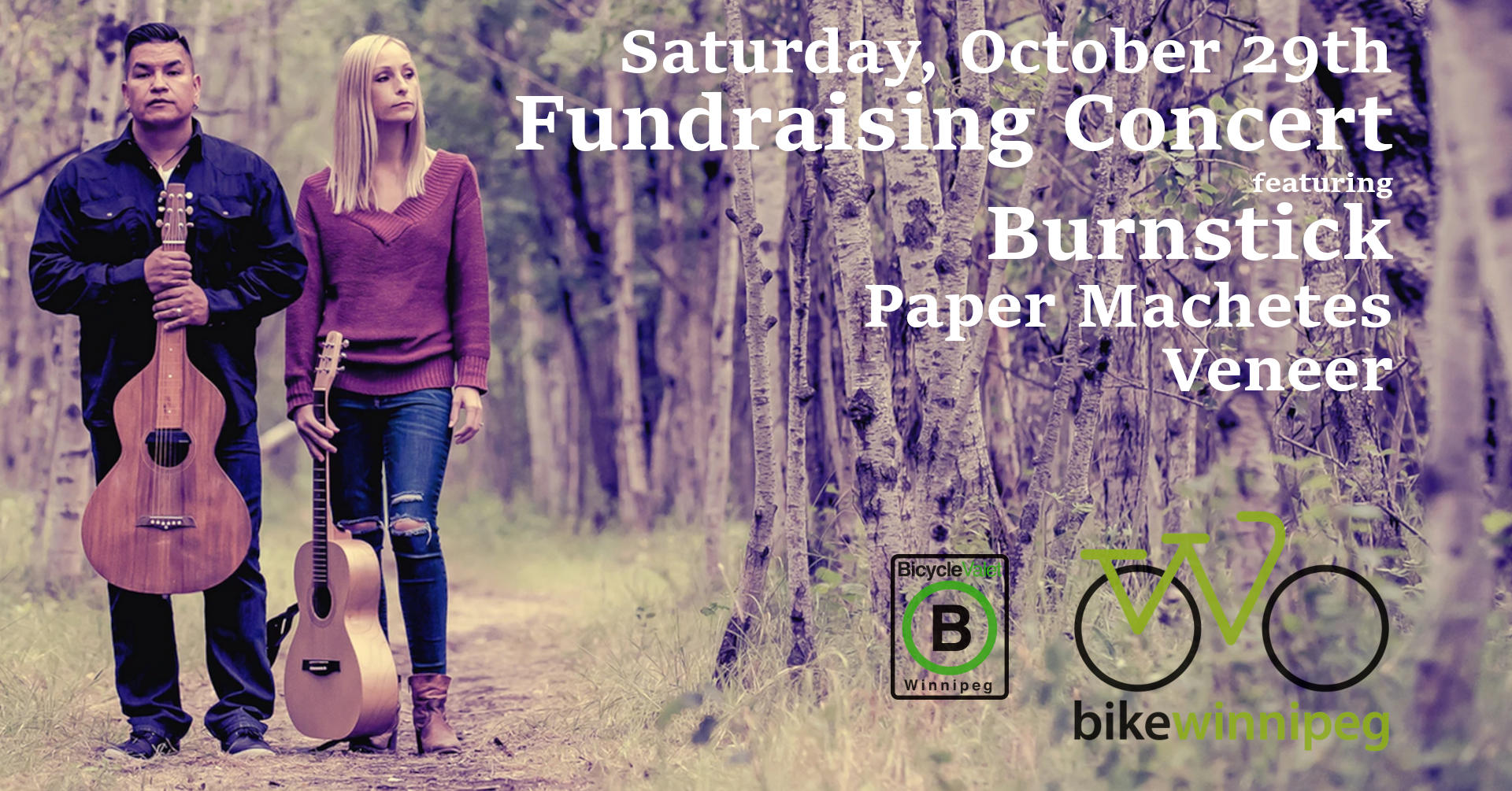 On Saturday, October 29th, a trio of Winnipeg's finest bands will grace the stage of the West End Cultural Centre in support of local cycling non-profit Bike Winnipeg. Featuring performances from Burnstick, Paper Machetes, and Veneer, concert goers will be treated to some of Winnipeg's finest artists as we wind down from a summer and fall full of activity, reflect on some of the gains we've been able to achieve over the past year, and get ready to work with a new city council and mayor as they finalize the 2023 budget and prepare the city's next 4 year budget, which will guide the city into 2028.
Award winning duo Burnstick pushes the boundaries of contemporary folk music, weaving together the unique sounds of vintage Weissenborns with intriguing vocal harmonies, while allowing the beauty of simple melodies to shine through.
It's folk music that's brimming with the kind of chemistry that could only come from a husband and wife. Nadia, a Francophone-Métis singer-songwriter, and Jason, a Plains-Cree guitarist, command the stage with their palpable performances.
Led by Christy Taronno, who has been enigmatically contributing her songwriting to various projects for years, Paper Machetes add in a poppy, cinematic sound styled after melancholy powerhouses like Lana Del Rey and Ben Folds Five.
Endlessly compelling, Veneer delivers minimal and playful, yet intensely heartfelt guitar pop. Warmth and pure joy radiate from their shared vocals, which overlap and ping-pong back and forth with emotional immediacy and rare chemistry.
Purchase Tickets
Advance Tickets $20 General Admission Floor | $25 General Admission Mezzanine plus fees
Hosting a cycling related event in Winnipeg? If it fits within our event list posting guidelines, we'd be happy to post it for you. Please email us at eventlistings@bikewinnipeg.ca.