Fermor Avenue Seine River Bridge Rehabilitation Open House
December 13, 2016 @ 16:00

-

20:00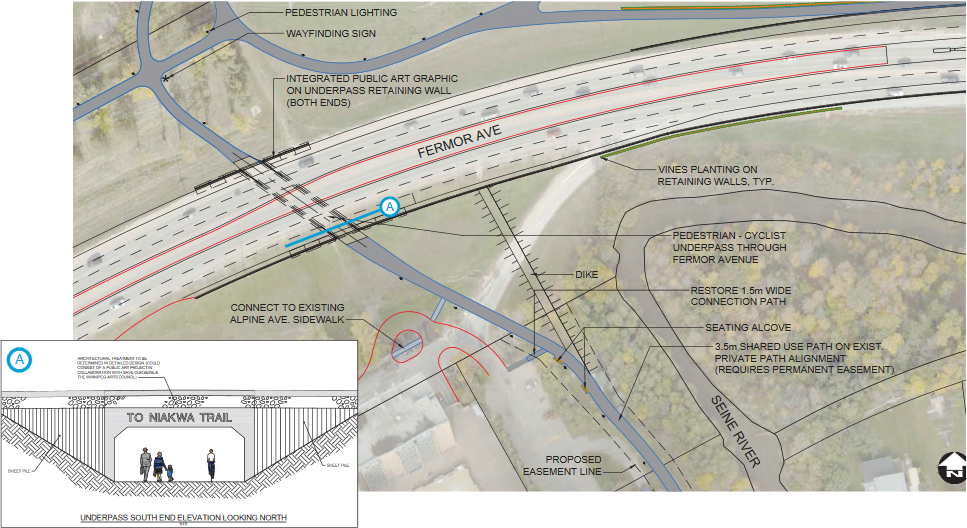 Winnipeggers are invited to attend an open house to view and provide feedback on the preliminary design ideas for the Fermor Bridge rehabilitation and roadworks.
The section of Fermor Avenue between St. Anne's Road and Archibald Street, including the bridge over the Seine River, is in poor condition and needs to be rehabilitated. A study is required to develop a preliminary design for the rehabilitation as well as improvements to the active transportation network in the study area.
Date: Tuesday, December 13, 2016
Time: 4:00 p.m. to 8:00 p.m.
Location: Southdale Community Centre, 254 Lakewood Boulevard
If you cannot attend the open house, please review the open house boards and fill in the survey EN | FR.
To help provide context for the project, we've developed a land use map that locates important destinations and corridors in the vicinity of the project.
Preliminary designs include the addition of a pathway on the north side of the bridge that would provide pedestrian and bicycle access across the Seine River during flooding and a 6m through pass of Fermor Avenue connecting Niakwa Road to the Niakwa Trail and Des Meurons. These are great additions to the city's pedestrian and bicycle network in this area.
However, we feel that there are improvements that could be made to further improve connectivity in the vicinity of this project. We have identified the following as important destinations and corridors near the rehabilitation project.
Elm Park Bridge
Glenlawn Collegiate/YMCA
Supervalue
Safeway/Travelodge
Bonivital Pool/Windsor Park Library
Southdale Centre Mall
HIgh-Density Housing between St. Anne's and Seine River
Louis Riel School Division/Norberry Glen Lee Community Centre
J. H. Bruns Collegiate/Southdale Community Centre
Dakota Collegiate/IGA
High-Density Housing along Beliveau
Home Depot Commercial Centre
St. Vital Park
St. Vital Centre
Des Meurons/Eggerton Bikeway (under study)
Niakwa Trail
Dakota/Dunkirk Pathway
St. Mary's Corridor
St. George Neighbourhood Greenway (under study)
St. Anne's Corridor
Bishop Grandin Greenway
For the purpose of the Pedestrian and Bicycle Network, the study area covers Fermor Avenue and Niakwa Road between Archibald and St. Annes (plus a bit of a buffer) as well as Pebble Beach Road from Niakwa Road to Willowlake Crescent.
Hosting a cycling related event in Winnipeg? If it fits within our event list posting guidelines, we'd be happy to post it for you. Please email us at eventlistings@bikewinnipeg.ca.