Kidical Mass!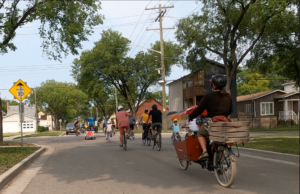 Bike Week is turning 10 and we're celebrating by hosting a Kidical Mass!  Kidical Mass is a fun-filled and family-friendly event that celebrates the joy of cycling with children! Kidical Mass (sometimes spelled Kiddical Mass) is an organized bicycle ride specifically designed for kids.  Kidical mass will start and end at Vimy Ridge park.
This exciting event is open to all and completely free of charge. Bike Winnipeg will be providing trained ride marshals to accompany the ride. Our main priority is ensuring a safe and enjoyable experience for everyone involved!
Kidical Mass features a pre-planned route that is carefully chosen to accommodate young cyclists. The route will be no longer than 5kms, offering a comfortable distance for children to pedal alongside their families and friends.
Kidical Mass is a fantastic opportunity to promote active lifestyles, teach children about road safety, and foster a sense of community among local cyclists. It encourages families to explore their neighborhoods on two wheels and discover the freedom and exhilaration that cycling can bring.
So dust off those bicycles, put on your helmets, and join us for an unforgettable day of cycling adventure! Whether you're a seasoned rider or new to cycling, Kidical Mass welcomes everyone to come together, pedal, and have a fantastic time. Let's create lasting memories and celebrate the joy of riding with our little ones!
We can't wait to see you at Kidical Mass!
Hosting a cycling related event in Winnipeg? If it fits within our event list posting guidelines, we'd be happy to post it for you. Please email us at eventlistings@bikewinnipeg.ca.