Pedal into History – Power & Politics
June 26, 2022 @ 13:30

-

15:30

$12.00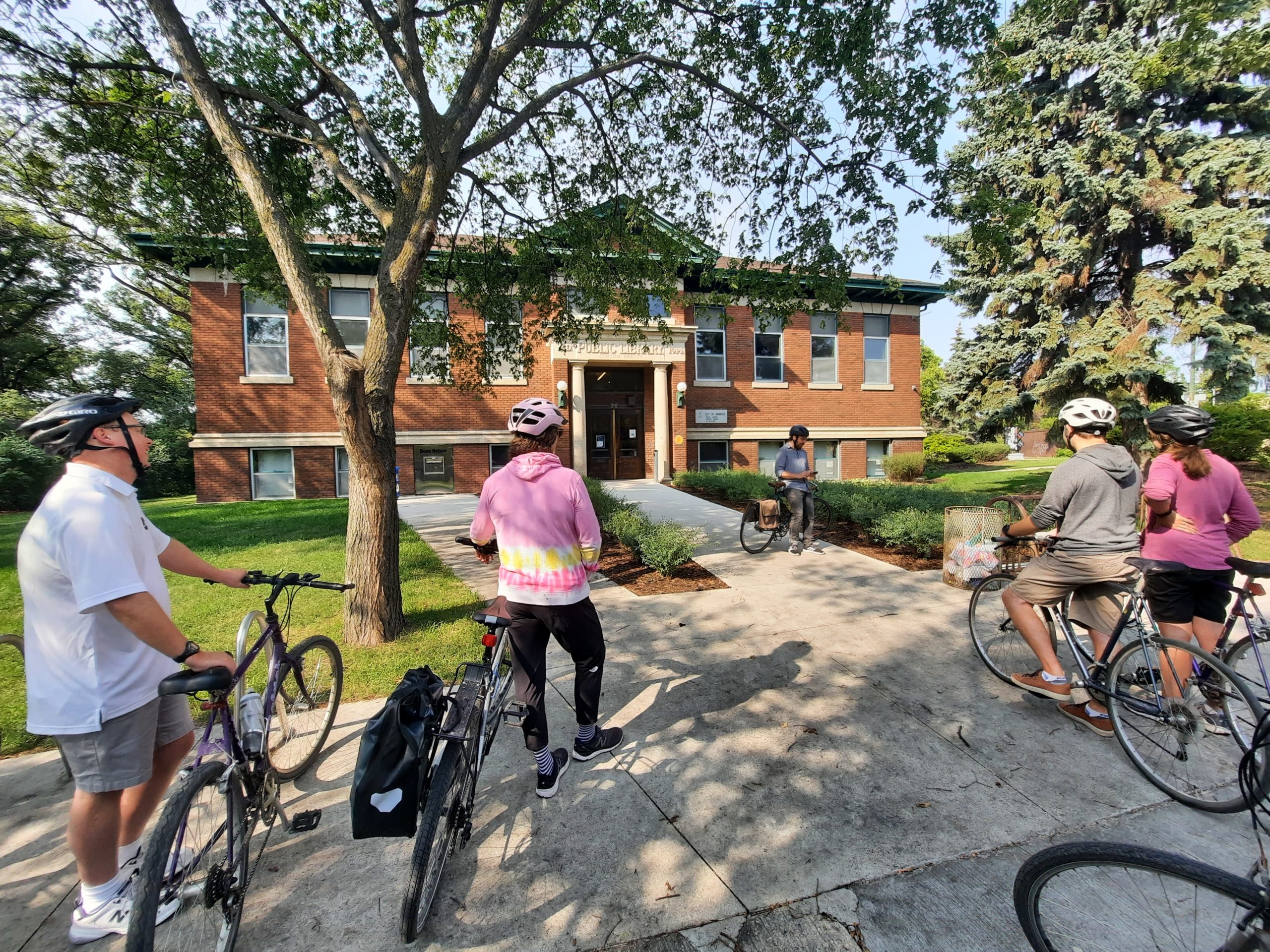 Pedal Into History: Power & Politics
This casually-paced tour will take us into the lap of luxury, exploring the beautiful old buildings in Old Winnipeg's most exclusive neighbourhoods.
It's no coincidence that many of Winnipeg's most remarkable mansions are clustered along the Assiniboine River. From Armstrong's Point to Wellington Crescent, we'll be tracing the development of this area from backwoods bush to the seat of political and economic power.
Winnipeg was once known as the "Chicago of the North", and our historic architecture reflects that rich past. At the same time we developed a reputation as a wild west town, filled with outrageous characters who made their own rules.
We'll be tracing the history of our city's early elites: Visiting corrupt land barons, abusive mayors, and a wealthy Metis woman who taught racist writers what "respect" means on the prairies.
Tickets for the ride are just $12 plus fees.
About the Pedal into History Ride Series
Pedal into History is a series of group bike rides focused on Manitoba's rich history. Curator of Seven Oaks House Museum, Eric Napier Strong, has drawn deeply on his historical expertise to develop a series of routes exploring different areas of Manitoba's early history. Ride participants are guided between historic sites by bicycle, and treated to in-person interpretation relating to the history of each site, local community and early Manitoba.
All rides are planned to maximize your comfort, and are casually paced and supported by Bike Winnipeg's team of ride marshals to help keep us moving and safe. Ride lengths vary, but tours will generally last 1 ½ to 2 hours.
We will have one shorter ride, the Birth of a Province , focused around The Forks and presented several times over the season, and four community museum rides that will focus on a more localized history and will only be presented once this season.
COVID-19 Precautions
To help ensure the safety of our ride participants, volunteers, and staff, we will be asking everyone to maintain a 2m distance between each other at stops and while riding. Sites have been selected to ensure space for social distancing, and we have limited ride sizes. If you are experiencing any symptoms, we ask that you please stay home. We will be more than happy to provide a refund. Finally, please note that we are not requesting the mandatory use of masks during our rides.
Upcoming Pedal into History Rides
Pedal into History – Wrong Side of the Tracks is just one of the rides we will be presenting as part of our Pedal into History series. Look for upcoming rides on the following dates:
Sunday, June 26 – 1:30 pm – Power & Politics
Sunday, July 17 – 9:30 am – Birth of a Province – 1 ½ hrs –
Saturday, August 6 – 1:30 pm – Ride the Red
Thursday, August 18 – 7:00 pm – Birth of a Province
Sunday, September 18 – 1:30 pm – Wrong side of the Tracks
Wednesday, September 21 – 6:30 pm – Across the Assiniboine
Saturday, October 1 – 1:30 pm – Beyond la Barriere
We'll have more information on upcoming Pedal into History rides in the near future.
Hosting a cycling related event in Winnipeg? If it fits within our event list posting guidelines, we'd be happy to post it for you. Please email us at eventlistings@bikewinnipeg.ca.