Polo Park Area Infrastructure Improvements Open House
November 26, 2013 @ 16:00

-

20:00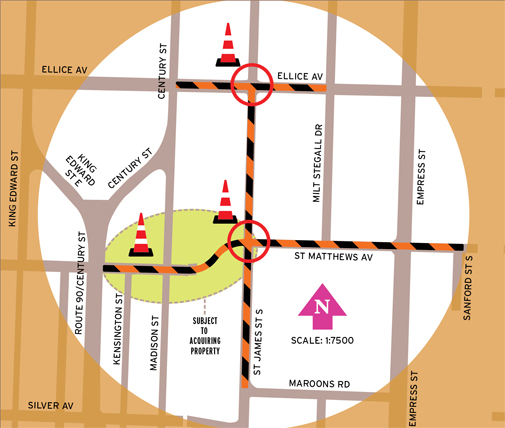 You Are Invited:
Please join the City of Winnipeg at a public open house to learn about the preliminary project plan for the Polo Park Area infrastructure improvements and contribute your feedback. There will be visual displays and staff on hand to answer questions.
Date: Tuesday, November 26, 2013
Time: 4 p.m. to 8 p.m.
Location: Canad Inns Polo Park, 1405 St. Matthews Avenue
Useful Links:
Please remind the City that policy requires the inclusion of AT facilities along St. Mathews and Ellice as part of the planned rehabilitation, and that there is strong potential to create a high quality bicycle route on the East side of Empress that connects over Portage into the Omand's Creek trails and the Burlington North Santa Fe rail bridge connecting to Wellington Crescent.
What is the Scope of the Project?
The project includes extending and widening St. Matthews Avenue from Route 90 to Empress Street, improvements to St. James Street from Maroons Road to Ellice Avenue, and intersection improvements at Ellice Avenue/St. James Street. Some land acquisition will be needed to accomplish this, and the City is communicating with affected property owners. If the costs of acquiring property needed for the extension of St. Matthews are too high, that portion of the project may be cancelled. Available funds would then be redirected to other roadway and traffic improvements in the area.
Other project components consist of sidewalk improvements including new sidewalks; additions and improvements to the existing land drainage system; connections to existing and future Active Transportation corridors; landscaping to improve aesthetics; and relocation and/or protection of several utilities.
Construction will start in spring 2014 and may extend into the 2015 construction season.
These infrastructure improvements have been included in the City of Winnipeg 2013 Capital Budget. Additional work may be identified and completed by 2015.
Hosting a cycling related event in Winnipeg? If it fits within our event list posting guidelines, we'd be happy to post it for you. Please email us at eventlistings@bikewinnipeg.ca.