South Perimeter Highway Design Study
January 22, 2019 @ 16:30

-

19:30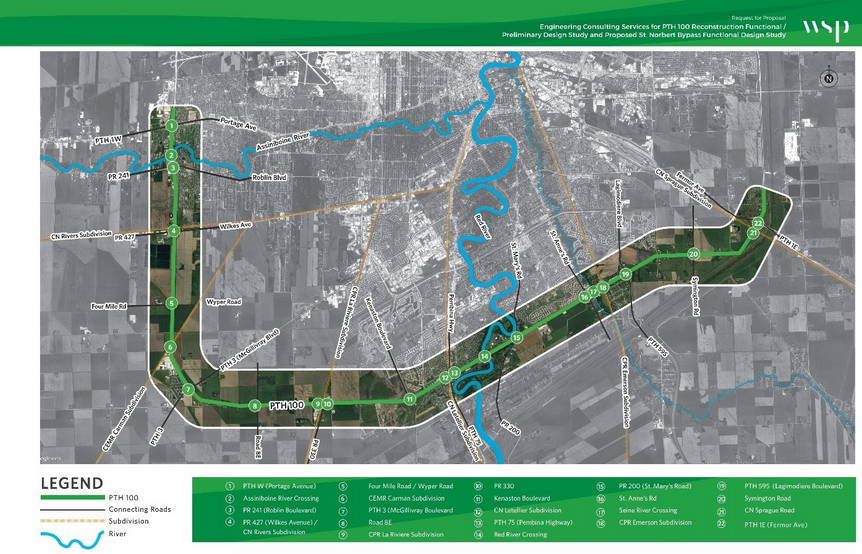 Manitoba Infrastructure (MI) has retained the services of WSP Canada Group Limited (WSP), a planning and engineering consulting company, to develop a preliminary design for reconstructing the South Perimeter Highway (PTH 100) to a freeway standard, including preliminary designs for its associated structures. The preliminary design will identify the locations and configurations of proposed interchanges, rail grade separations, and waterways crossings. The study also includes the development of an alignment for a future western bypass of the St. Norbert neighbourhood, from PTH 75 south of PR 247, running northwesterly and connecting to PTH 100 at Kenaston Boulevard.
WSP's public engagement team is hosting a number of Public Open House events in January 2019 to discuss the progress of the study, and to specifically, present and obtain feedback on the roadway and interchange alternatives for PTH 100 and the future St. Norbert Bypass.
Three open house events will be hosted by the study team to present various design and alignment options for PTH 100 and the future proposed St. Norbert Bypass.
Please join us at one of the following locations to learn more about the study and speak with members of the project team:
Date & Time:   January 14, 4:30 p.m. – 7:30 p.m.
Location:       South Winnipeg Community Centre, 666 Silverstone Avenue, Winnipeg
Date & Time:   January 17, 4:30 p.m. – 7:30 p.m.
Location:       Oak Bluff Recreation Club, 101-123 MacDonald Rd, Oak Bluff
Date & Time:   January 22, 4:30 p.m. – 7:30 p.m.
Location:       Dakota Community Centre, 1188 Dakota St, Winnipeg
For those who require alternate formats or interpretation in order to participate, please contact Melanie Spencer at Melanie.Spencer@gov.mb.ca or 204-794-2030.
For more information on the study, please visit the project website at www.gov.mb.ca/mit/hpd/pth100, or contact PTH100StNorbert@wsp.com.
Hosting a cycling related event in Winnipeg? If it fits within our event list posting guidelines, we'd be happy to post it for you. Please email us at eventlistings@bikewinnipeg.ca.