UU's Green Action Committee presents Dan Frechette & Laurel Thomsen
March 13, 2015 @ 19:00

-

23:00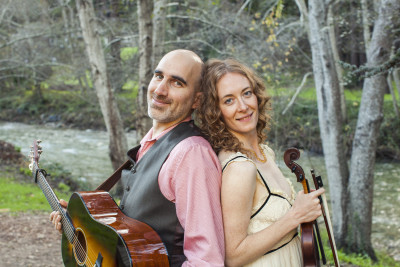 Dan Frechette & Laurel Thomsen to Perform in support of Secure Bicycle Parking at WAEC
On Friday March 13th, roots duo Dan Frechette & Laurel Thomsen bring their heartwarming harmonies to the friendly confines of the Unitarian Universalist Church on the banks of the Assiniboine River. All proceeds from the concert will go to the Winnipeg Adult Education Centre to help build a new bike cage to provide staff & students with secure bike parking.
Meeting via a chance YouTube sighting in 2012, and fueled by a rate musical chemistry, Dan Frechette and Laurel Thomsen have overcome adversity to circumnavigate North America, logging over 130 concerts throughout the US and Canada and releasing a debut CD. Audiences enjoy their heartwarming harmonies, emotive violin, and spirited guitar, while literate, poetic lyrics and soundtrack ready instrumentals capture stories of triumph and irony, wit and humour.
The concert will take place from 7:00 pm to 11:00 pm at the Unitarian Universalist Church on 603 Wellington Crescent. Tickets can be purchased for $20 from the Winnipeg Adult Education Centre (310 Vaughn Street), Prairie Sky Books (871 Westminster), Music Trader (97 Osborne St.) or Into the Music (245 McDermot Ave.).
What people are saying about Dan Frechette & Laurel Thomsen
"Truly one of Winnipeg's treasures." –Cara Luft, Wailing Jenny's & Small Glories
"A good songwriter…a terrific violinist…and together their voices blend beautifully and harmonically…I can't wait to hear more…" –Les Siemieniuk, Penguin Eggs Magazine
Hear them now at www.danandlaurel.ca
Hosting a cycling related event in Winnipeg? If it fits within our event list posting guidelines, we'd be happy to post it for you. Please email us at eventlistings@bikewinnipeg.ca.