Winter Bike to Work Day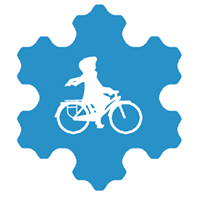 Join tens of thousands of people worldwide and commit to ride your bicycle on Friday, February 10th for Winter Bike to Work Day.
You can ride to work, school, shopping or even a friends place. The point is to get on your bike and enjoy the ride
Winter Bike to Work Day Website
Local Events
University of Manitoba/Health Sciences Centre Pit Stops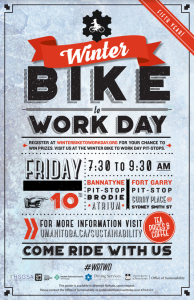 Grab a quick cup of tea and snack on your way into school/work on Friday at one of two University of Manitoba pit stops.
7:30 to 9:30 AM
Bannatyne Campus – Brodie Atrium (

727 Mc Dermot Ave

)
Fort Garry Campus (Curry Place @ Sydney Smith St)
For more information, check in with the U of M's Sustainability Office.
West Alexander to East Exchange Corridor Pop-up Engagement Events
The city is currently looking into options to improve the existing painted bike lanes on Bannatyne and McDermot between Waterfront Drive and Sherbrook Street by installing protected lanes so that they are comfortable for people of all ages and abilities.
Drop in on one of four pop-up engagement events on Winter Bike to Work Day to provide your input.
10:00 a.m. to 12:00 p.m. at Bronuts, C-100 King Street;
1:00 p.m. to 2:00 p.m. at Red River College, Loewen Atrium, 160 Princess Street;
1:00 p.m. to 2:00 p.m. at Across the Board Cafe, 211 Bannatyne Avenue;
3:30 p.m. to 5:30 p.m. at Boon Burger Cafe, 141 Bannatyne Avenue.
UMSU BikeLab Ride
Help celebrate Winter Bike to Work Day this Friday, February 10th. The ride starts at the UWSA Bike Lab at 7 pm. Don't forget to register fo Winter Bike To Work Day.
Facebook Event (please share widely)
Hosting a cycling related event in Winnipeg? If it fits within our event list posting guidelines, we'd be happy to post it for you. Please email us at eventlistings@bikewinnipeg.ca.