Winter Bike to Work Day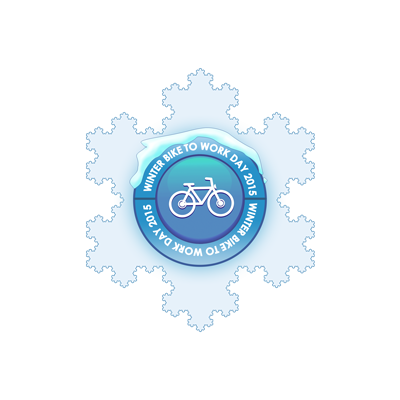 Imagine a winter day when bikes abound on our streets and people everywhere are celebrating the joy of a winter bike ride!
You can help make that happen by committing to ride your bike on Friday February 13th as part of International Winter Bike to Work Day! Sign up now on the Winter Bike To Work Day site, and your can see how many riders have signed up in cities across the world.
Lets make sure that Winnipeg hits No. 1 in North America!
Events on Friday February 13th Celebrating Winter Cycling
Other Winter Events Celebrating Cycling and Active Transportation
There are lots more events that will encourage you to stay active in and around Winter Bike to Work Day. Why not sign up for some of these as well, or come out and cheer on those that have entered into the races!
Bougeons en hiver: The Jack Frost Challenge

Frolic in the snow and celebrate winter Manitoba-style! Sign up your team of 1-5 people to skate, bike, ski, snowshoe, run or walk a combined total of 130 km the week of February 7-13, 2015. Sign up here.
Actif Epica
Year 4 of Actif Epica will be a real sweetheart! On February 14, 2015, racers from around the world will gather in the frozen winter landscape of North America's geographic centre—Winnipeg, Manitoba. Come out and cheer on the participants as they enter the Forks!
IceBike 2015
On February 21st 2015 The Forks will play host to the 15th annual Ice Bike event hosted by Woodcock Cycle. This annual event is open to everyone and regularly sees well over 150 participants of all types from your elite racer, to someone who has never ridden a bike in the winter before, and even unicyclists. There are also 3 categories of kids races for all ages!
This closed course features everything a winter cyclist might come across in Winnipeg, be it snow, ice, gravel, pavement, or the ever elusive abominable yeti. If riding a bicycle in the winter is just too far out there for you then stop by The Forks on February 21st and witness Winnipeg's winter cyclists at their finest (and their worst).
Hosting a cycling related event in Winnipeg? If it fits within our event list posting guidelines, we'd be happy to post it for you. Please email us at eventlistings@bikewinnipeg.ca.