At Bike Winnipeg, we believe that a vote to open Portage & Main is a vote towards the acceptance of alternative modes of transportation in our city. We believe it aligns with a shift from car-centric decision-making to a multi-modal approach to decision making, where walking, biking, transit, movement of goods, and driving a car are all considered. This shift in thinking is what we at Bike Winnipeg are striving to achieve with the advocacy and outreach we do, and what we believe will help us get the infrastructure and programming we need to make riding a bike in Winnipeg a safe, enjoyable, accessible, and convenient choice for people of all ages and abilities year-round.
On October 24th, Vote Open!
On October 24th, please vote Yes to show that you support the opening of Portage and Main to pedestrian crossings, and support candidates who will do the same.
More Information
Vote Open Winnipeg and the City of Winnipeg have provided background information on Portage & Main that indicates that renewal of the intersection is required regardless of the results of the vote to remove the barricades. For more information on the intersection visit:
Future Opportunities
While the ballot question before you on October 24th only deals with the opening of Portage and Main to pedestrians, we at Bike Winnipeg believe that opening the intersection to pedestrians begins the process of shifting our vision of Portage & Main from its current car-centric role as a throughway back to its historic role as the vibrant, engaging heart of our city.
Our city is growing at a rate it hasn't experienced in decades. We will soon be a city of over one million people. Our increasing population comes with an increased demand for mobility. In the past we've dealt with this challenge by building more roads or by widening the ones we already have, but it's obvious that this isn't (and never really was) sustainable. We simply don't have the space to widen many of our roads, and we can barely pay to maintain the roads we already have.
To plan for our future, we need to rethink how people move around in Winnipeg. We need to shift our focus on transportation away from our current strategy that simply asks how to move and more vehicles over to one that asks how we move people. When we make that shift, it's possible to imagine a city that does a far better job of moving people around, but does it by providing people with better choices in how they get around and by making it easier and more convenient to travel on foot, by bike, or by bus.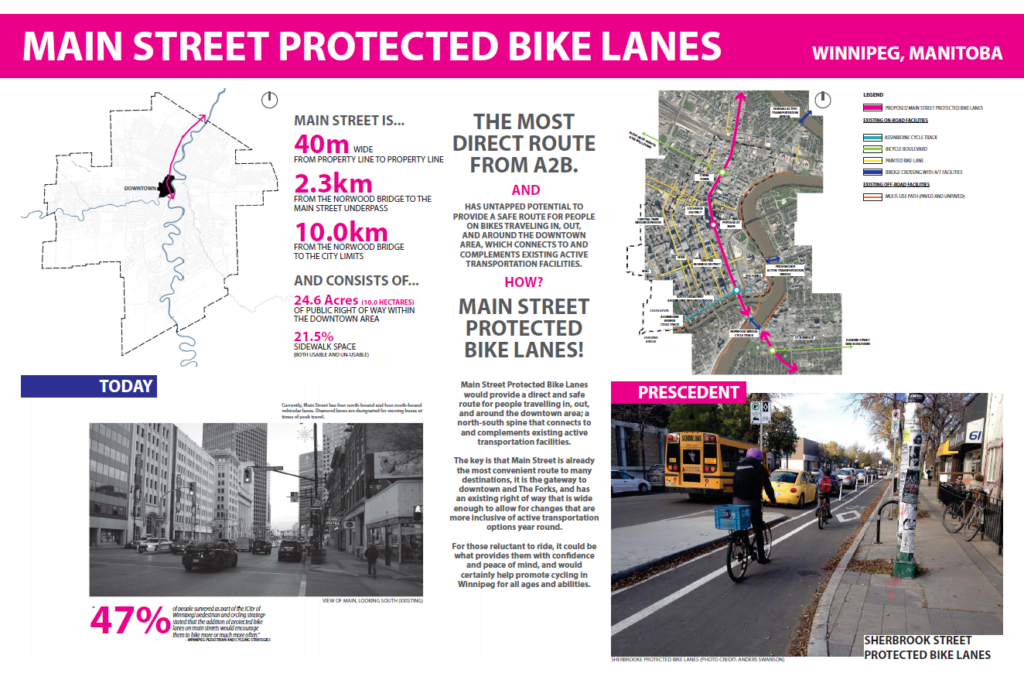 In line with the Pedestrian and Cycling Strategies call for a Corridor Study, in 2015 Bike Winnipeg developed a conceptual plan for Main Street. That plan includes space for people traveling on foot, bikes, buses, as well as in cars, and incorporates plans for a future rapid transit route on Main Street that would accommodate both local and rapid transit bus routes.
Our proposed changes for Main Street are part of a future discussion that needs to take place, and opening Portage & Main to pedestrians will help allow us to have this discussion now.
Further Reading

Our proposed design includes offset transit lanes, protected intersections, and parklets for placemaking. You can read up on these and other novel ideas through the links below.