Although the city has made considerable effort to increase funding for the pedestrian and cycling networks, forecast spending remains too low to complete the basic pedestrian and cycling networks within the 20 year time frame called for in the Pedestrian and Cycling Strategies.
The current budget of $5.4 million/year[1] amounts to less than 40% of the $14 million/year recommended in the Pedestrian and Cycling Strategies[2]. This funding shortfall is being met to some degree by an increased inclusion of walking and cycling infrastructure within other roadway projects. While the walking and cycling facilities included in these roadway projects are welcome additions, they often do not connect to existing walking or cycling infrastructure, and do not necessarily represent the priorities identified for development of the city's walking and cycling networks.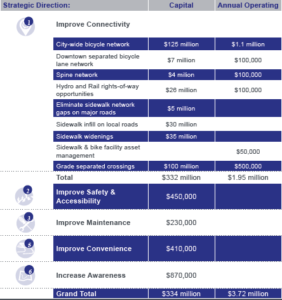 To address this shortfall, we are recommending annual increases to the walking and cycling program of $.667M/year over the next five years, starting in 2019 with the expectation that this increase will be matched by the two senior levels of government to provide an annual increase of $2 million/year. To access provincial and federal funding, the city should highlight the strong co-benefits that higher rates of walking, cycling, and transit use provide, including health benefits, reduced greenhouse gas emissions, economic impacts, reduced congestion, and workforce productivity benefits.
Given that both the Public Transit and Green Infrastructure streams of the Federal Government's Investing in Canada plan aim to promote active transportation[3], we have a golden opportunity to enter into a cost sharing agreement with the Federal Government to accelerate the development of our walking and cycling networks.
To access Federal and Provincial funding, we are recommending that the next mayor and council direct the Public Works Department to create a package of walking and cycling infrastructure priority projects worth more than $100 Million dollars and make this package of walking and cycling improvements a top priority for the next round of funding from the Investing in Canada Plan.
Focus Spending Downtown and in Disadvantaged Neighbourhoods
With limited funding available to design and develop infrastructure that will make it more comfortable and convenient to walk, bike, or bus to destinations, it is important to ensure that projects to improve walking and cycling infrastructure are focused on areas of the city that have the highest potential to encourage more trips by foot, bike or bus. It is also important to consider areas of the city where limited access to walking or cycling facilities is compounded by socio-economic challenges. In Winnipeg, the areas most likely to attract new users are the downtown and surrounding mature neighbourhoods where density is higher and the existing street network forms a connective grid.
Summary of Recommendations
Commit to annual increases of $.667M/year for the walking and cycling program budget over the next five years with the expectation that this increase will be matched by the provincial and federal governments to provide an annual increase of $2 million/year in 2019, growing to $10 million/year by 2023.
Commit direct the Public Works Department to create a package of walking and cycling infrastructure priority projects worth more than $100 Million and to making package of projects a top priority for the next round of funding from the Investing in Canada Plan.
Focus funding on the Downtown and in Disadvantaged Neighbourhoods
Further Reading
Imagine a Winnipeg… Alternative Municipal Budget Winnipeg 2018 (pdf)
Investing in Canada: Canada's Long-Term Infrastructure Plan (pdf)
End Notes
[1] Page 2–1, Adopted Capital Budget, City of Winnipeg, 2017
[2] Pages 314–315. Winnipeg Pedestrian and Cycling Strategies, City of Winnipeg, 2015
[3] Page 32, Investing in Canada: Canada's Long-Term Infrastructure Plan, Government of Canada, 2018