If you've made a donation or purchased a membership through our website recently, you may have noticed some changes to the way we process your payments. To help us better manage memberships and newsletter subscribers, we have added a new back end processing system, CiviCRM. CiviCRM will allow us to better manage our relations with you, whether as a newsletter subscriber, as a member, a donor, or as a volunteer. As part of the change to CiviCRM, you'll notice a few changes to our website (in particular our join, donate, and subscribe pages) and to our newsletter.
Changing to an automated back end for memberships and donations will help free us up from membership admin tasks, allowing us to concentrate our efforts on things that matter more to our members, advocacy and encouragement.
New Newsletter Subscription, Join, and Donate Forms
The first change you'll notice is that newsletter subscriptions, memberships, and donations are all managed on-site through CiviCRM forms. When purchasing a membership or making a donation, you will be asked to enter your contact and payment information. If you are renewing your membership, your contact information may be auto filled. Once you have entered your payment and contact information, click on the Review your contribution button.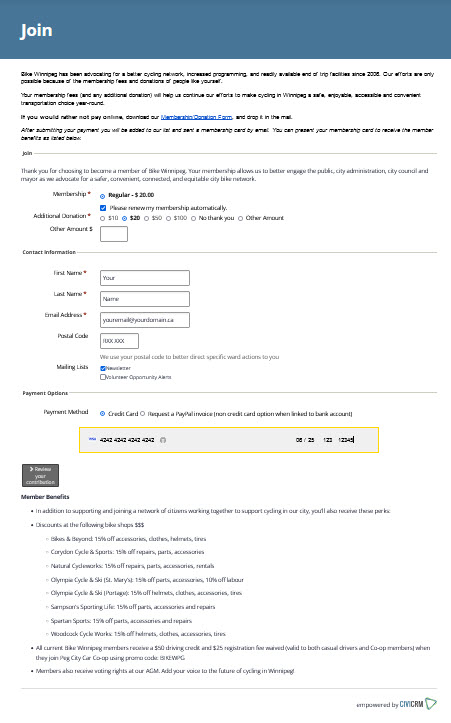 Review your contact information and payment details, and if everything is OK, click on the Make contribution button.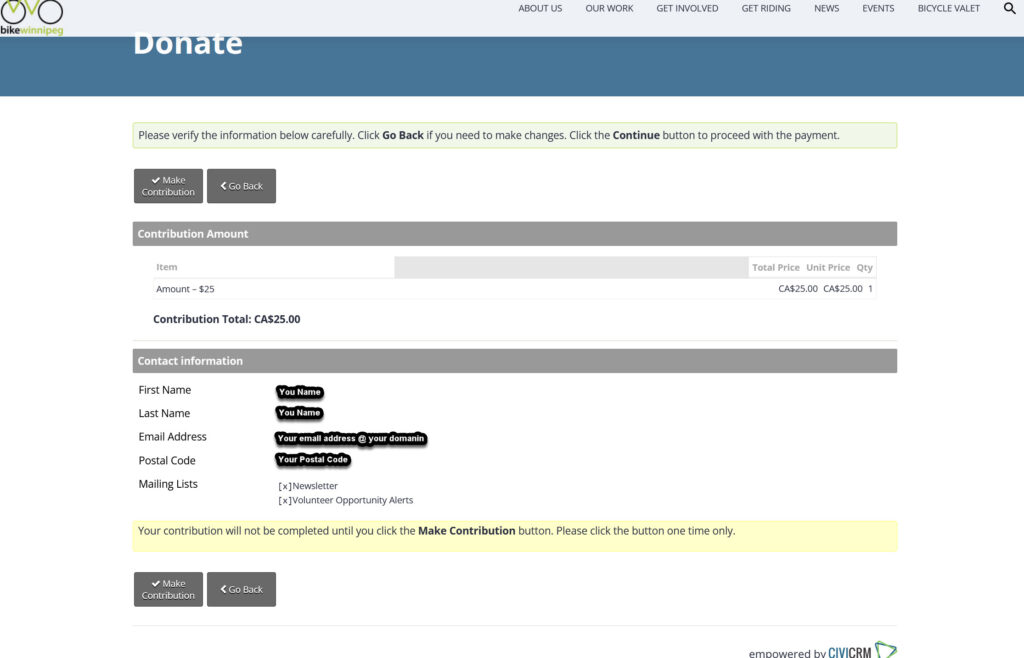 Once the payment has been compeleted, you will be sent to a Thank you screen. A receipt will be emailed to the address supplied.
New Payment Processor – Stripe
A second big change you'll notice is that we are now using Stripe as our payment processor. The change to Stripe allows us to better integrate payments with CiviCRM. As with the previous membership and donations forms, you can choose to make a one time payment, or you can choose to set up recurring payments (either monthly or yearly), although we may be having an issue with recurring payments at present (please be patient).
For those who have setup a PayPal subscription for memberships or donations, payments will continue as normal and will be imported into the new system on a monthly basis. Please note that this may result in a bit of a lag time between payment and arrival of your membership card. Reminder notices may also be a bit behind. Please disregard any payment requests if you have recently made a PayPal payment.
Non Credit Card Payment Options
At present, our new payment processor, Stripe, will only take credit card payments. If you would rather not pay by credit card, we do offer a couple of other payment options:
PayPal – If you have a bank account linked to a PayPal account, you can make a payment to us through the attached account. Just opt for the pay later option, and request a PayPal invoice for your membership and/or donation. PayPal payments will be imported into the system on a regular basis, although there will be some lag time between payment and entry into our membership database.
Cheque – If you prefer to pay by cheque, you can download our membership/donation form and mail it in with your cheque.
Cash – If you are able to visit us in person, we can always accept a cash membership.
Square – If you catch us in person at an event, we will try and have access to our Square card reader that will allow us to take in person credit card or debit card purchases.
New Rolling Memberships
The final big change is that membership terms now end one year from the last day of the month of your contribution, rather than the end of the year. Automatic reminders will be sent out one month and one week prior to expiration of your annual membership, and one final reminder sent 3 weeks after your membership expiration. Reminders will not be sent if payment has been received.
Let us know if you are having difficulties There may be a few hiccups as we complete the switch (it seems like recurring payments are one such hiccup), but we hope that you will stick with us.
Thank you for your continued support, we would not exist without your generosity!